YUME X7 Electric Scooter Review
The YUME X7 has gigantic 13 inch diameter tires, an enormous battery, huge motors, and dazzling lights which puts it in an elite class of high performance, 13 inch diameter tire electric scooters.
I first heard about the YUME brand from Filipino and UAE riders where YUME seems to be very popular. However, in the United States there is not a lot of brand awareness of the YUME Scooters.
YUME sent us the new X7 so we could have the full YUME escooter experience here in the USA.
The YUME X7 is the first 13-inch tire scooter that Jimmy and I have reviewed. As soon as we opened the YUME X7, we immediately noticed the massive size of the scooter.
Most of the large, high powered electric scooters boast tire diameters of 11 inches such as the Zero 11X and the Wolf Warrior 11. The YUME has 13 inch tires.
Who knew that two inches in diameter would make such a big difference– but a 13 inch tire is 37.7 square inches bigger than an 11-inch tire and in person, the size differential is immediately noticeable.
In this review, we are going to let you know what we loved about the YUME X7, the drawbacks, and who we think this scooter is perfect for.
Click here to see the most up to date pricing on the YUME X7. Save $125 with coupon code: GotScooterX7
Top 5 things I loved about the YUME X7
Massive tires
Massive deck
Bright deck and headlights
Stand out with its unique appearance
Massive battery
How big are the tires on the YUME X7 escooter?
The tires on the Yume X7 are 13 inches in diameter and nearly 5 inches wide. The tires are tubeless pneumatic and are considered anti-skid street tires.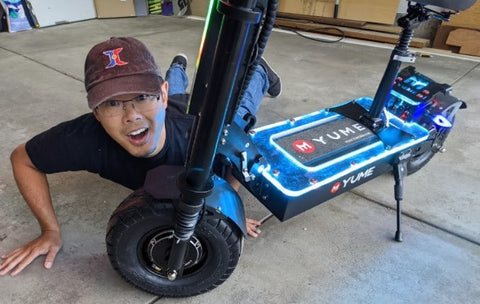 How big is the deck on the YUME X7?
The deck on the YUME X7 is massive and measures at 24 inches long and 10 inches wide (61 cm by 26 cm). The huge 13-inch tires give the scooter quite a bit of deck to ground clearance. The deck to ground clearance is 9.5 inches/24 centimeters.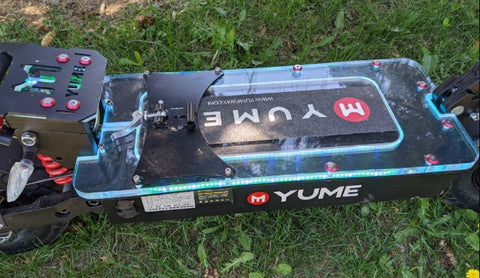 My favorite feature of the YUME X7
One of my favorite things about the YUME X7 are the bright headlights which are perfect for night riding. I find 95% of electric scooters have inadequate lights for safe night riding. The YUME X7 has four bright lights that also have electric horns built in.
In addition to the bright headlights, the acrylic deck LEDs create a ton of light. You will definitely be seen by cars and pedestrians while riding the YUME X7 at night. The only problem is you may draw too much attention to yourself driving while driving the YUME X7 at night.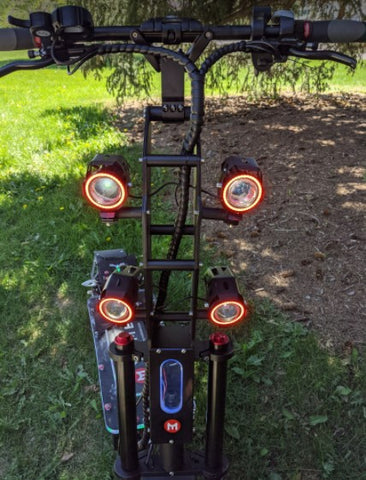 Stand out from all the other electric scooters
The YUME X7 is one of the most unique scooters I have ever tested. From the massive 13-inch tires to the crazy lights, you will be sure to stand out.
I was riding around the YUME X7 around my neighborhood and local park. A few comments I received were, "That scooter looks intense!" and "Check out those lights!" I was surprised people could appreciate the LED deck lights during the day.
If you want an escooter that stands out, the YUME X7 is a great choice!
How big is the battery on the YUME X7?
The YUME X7 that we received to review is a 60V 50Ah battery, creating a whopping 3000 watt hours. We told YUME that Americans would love a 72V version, and they listened to us! They now offer the YUME X7 in a 72V 45Ah battery, creating a monster 3240 watt hours.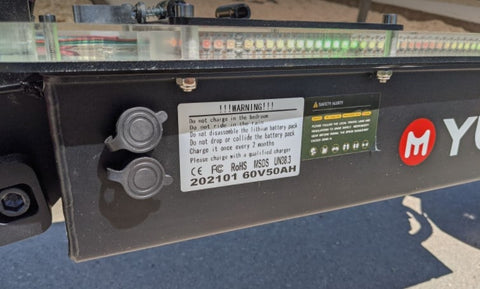 Other things we loved about the YUME X7
I was worried the 13-inch tires may be unstable at high speeds, but the scooter is solid and planted when traveling fast.
There is a seat that comes standard with the YUME that is comfortable and has a shock built into it.
I was worried I would get a pogo stick feeling on the YUME X7, but the hydraulic front and rear suspension feel terrific. I rode the YUME X7 down stairs and was impressed on how well it performed.
I am not a big fan of electric horns, but the YUME X7 has four electric horns creating a loud electronic beeping noise.
If you have a small door to your home that you need to push your scooter through, the XTASY handlebars are collapsible for fitting in tight spaces.
I also love that the X7 comes standard with two 2A fan cooled chargers.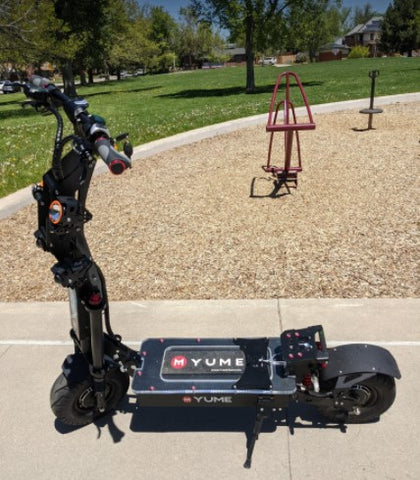 Is the YUME X7 waterproof?
The YUME X7 has a IP54 water resistant rating. IP54 means it can handle light rain. However, be careful riding in wet conditions because none of the scooter dealers or manufacturers cover for water damage.
What type of folding mechanism does the YUME X7 have?
The YUME X7 has two folding mechanisms to ensure safety. The locking mechanism consists of two levers that are easy to engage and disengage.
I have reached out to many YUME riders to see if they have had issues with the locking mechanism, and not one person has told me it has failed on them. However, I would still like a more robust folding mechanism.
I have added a Velcro strap around the folding mechanism to ensure I don't have issues since I ride my scooters aggressively. I would hate to have a failure in the stem going 40 mph+, so I would rather be safe than sorry.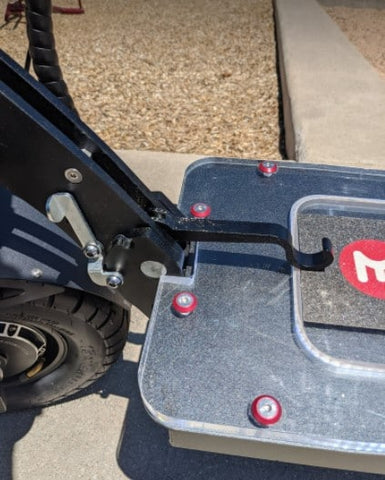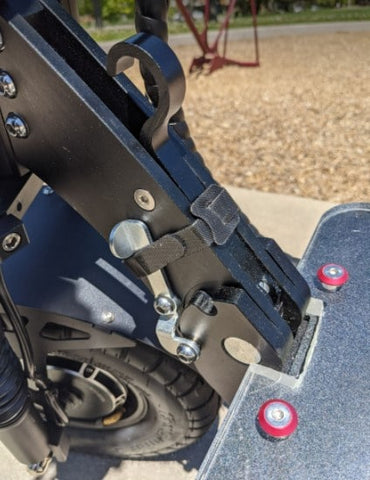 Is there a button to turn off the deck light on the YUME X7?
One of my biggest complaints about the YUME X7 is that I cannot turn off the deck light if I forgot to bring the remote control with me. The deck lights can only be controlled with a remote control that can easily be left at home.
I wish there was a button for the deck lights so I could turn them off during the day. If you do happen to lose the remote control, most RGB remote controls should work.
I was surprised they only claim 80 miles of range on a scooter with such a large battery, but I expect they do that because they assume most people will leave the lights on.
I would think you could squeeze 100-120 miles of range if you rode conservatively with the lights off but we have yet to test it and maybe the weight of the scooter and the power needed to run those big motors on those big tires eats up a lot more power than scooters with smaller tires and motors.
What about the kick plate on the YUME X7?
The angle of the kick plate on the YUME X7 is a little flat. I like a kick plate to be more at a 30-45 degree angle. The YUME X7 has a kick plate that is too flat for my preference.
The YUME X7 does not have a ton of torque like the Wolf Warrior 11+ or ZERO 11X, so the kick plate isn't as important.
Behind the kick plate is a fender that is made of a thin metal. Because of the metal material, the fender can get pretty loud and echo when rocks and road debris hit it.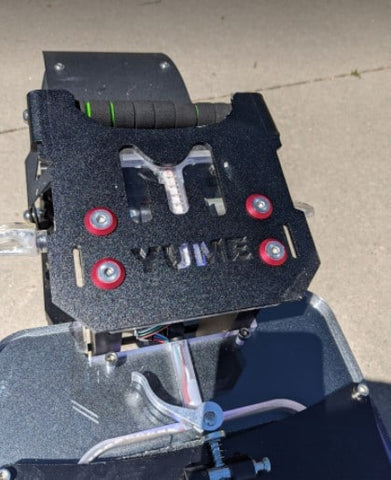 What happened to the box and where are the instructions?
Check out the unboxing video to see for yourself.
Who is the YUME X7 perfect for?
The YUME X7 is perfect for the scooter enthusiasts who want to stand out from a crowd of traditional looking scooters. It is designed for someone who wants to go fast, but doesn't need the arm ripping initial acceleration that other high-powered scooters offer.
With huge tires, massive deck, an included seat, and gigantic battery, you will comfortably ride for long distances.
The price point of the YUME X7 is very reasonable for all the features and benefits you get. If you want to get one of the most feature packed and unique looking scooters, the YUME X7 is an excellent choice.
YUME X7 Specifications
| | | |
| --- | --- | --- |
| Battery | 60V 50Ah | 72V 45Ah |
| Watt Hours | 3000Wh | 3240Wh |
| Stated Max Speed | 47 Mph (75.6Kmh) | 55 Mph (88.5Kmh) |
| Stated Range | 80 Miles (130 KM) | 80 Miles (130 KM) |
| Estimated Range | 50 Miles (80.46 KM) | 50 Miles (80.46 KM) |
| Tire Size | 13 inches | 13 inches |
| Weight | 121 lbs (55 kg) | 121 lbs (55 kg) |
| Dual Charger Charge Time | 8-10 Hours | 8-10 Hours |
| Max Load | 330 lbs (150 kg) | 330 lbs (150 kg) |
Please Support Us
If you like our perspective on electric scooters and are interested in buying a YUME X7 we would love for you to purchase a scooter through our affiliate link. It is free to you, and it helps us greatly push out more content so you can make an educated decision.
Thanks for reading our article, and make sure to wear safety gear.
Keep on wheeling!