60V 31.5AH Automative 21700

Front&Rear Hydraulic Brake


11 '' Off-road Tubeless Tires

105LBS - Load capacity: 330 LBS



60V 31.5AH Automative 21700

11 '' Off-road Tubeless Tires

Front&Rear Hydraulic Brake

105LBS - Load capacity: 330 LBS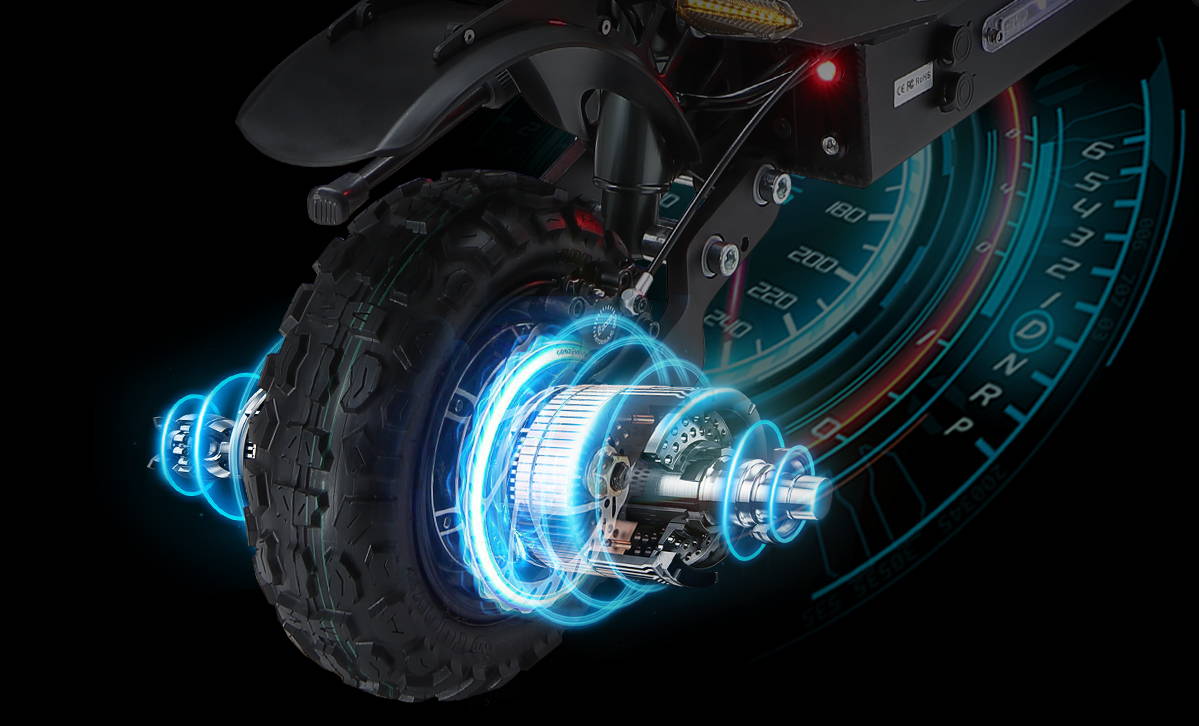 60V 6000W High-performance
brushless DC waterproof
motor
High performance waterproof 60V motors in the Y11 deliver incredible acceleration utilizing a total peak power of 6000 watts. The Y11 is capable of maximum speeds of up to 50Mph.
                            6000W                           50MPH                                     35°
                      Peak Power                   Max Speed                   Gradeability
Upgraded Lithium Ion battery for a longer ride
High quality Lithium Ion cells are sourced for the production of the battery. The battery management system (BMS) within each battery monitors battery state and temperature, keeping the battery safe and the cells balanced while charging and in use.
The Y11 uses a 60V 31.5Ah battery which is rated for 500 complete charge cycles that offer a very long life. 2 x 2A chargers are included with the Y11 which has dual charging ports for simultaneous (faster) charging.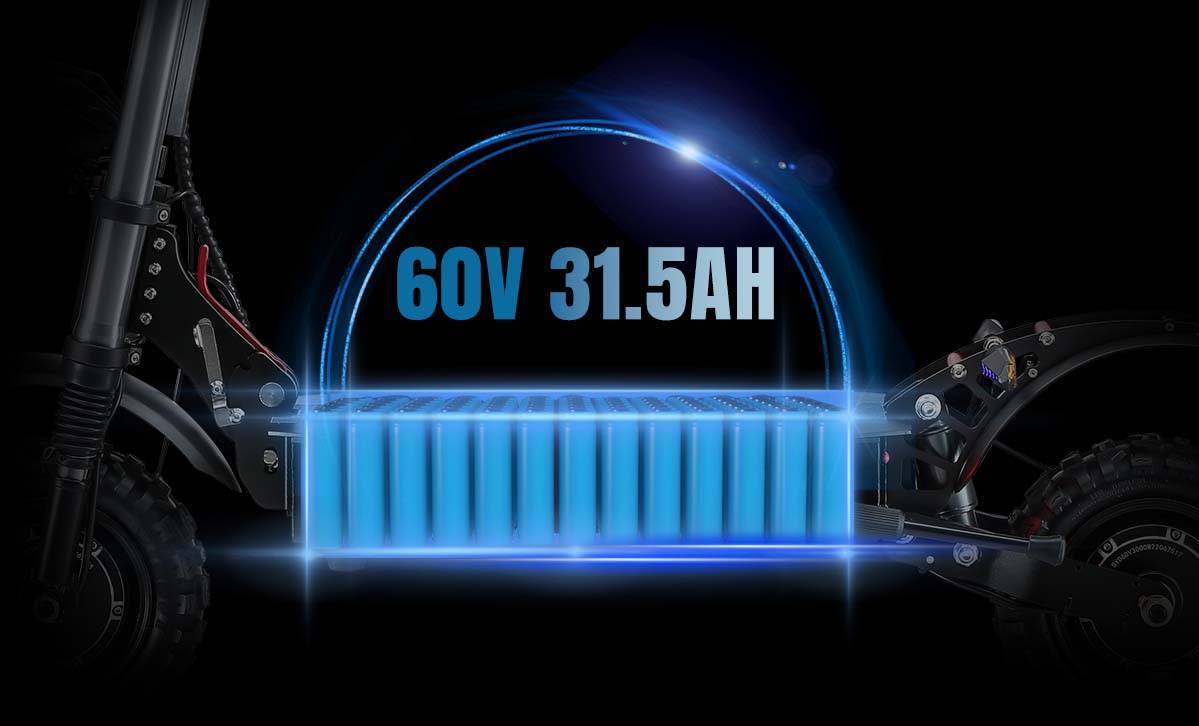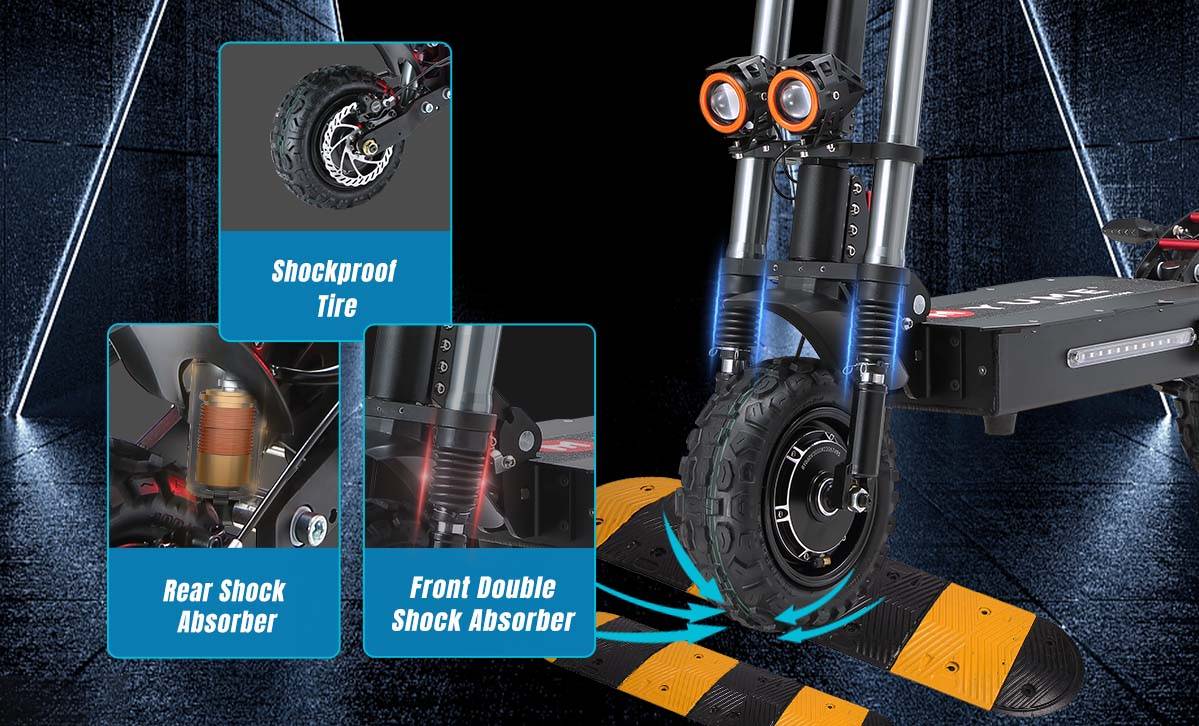 FRONT AND REAR SHOCK ABSORPTION
The Y11 utilizes a suspension system of dual coil shock absorbers for the rear wheel and an oil dampened fork shock absorber for the front. The combined suspension system works together to provide a smooth, stable and safe ride regardless of terrain.
11" All terrain, burst resistant tires come installed on the motors. The tires have deep, aggressive wear resistant threads that provide a long service life and are suitable for various road conditions and light off road use.



Excellent wear characteristics


                      Puncture-resistant                   High Elasticity

                      Excellent wear characteristics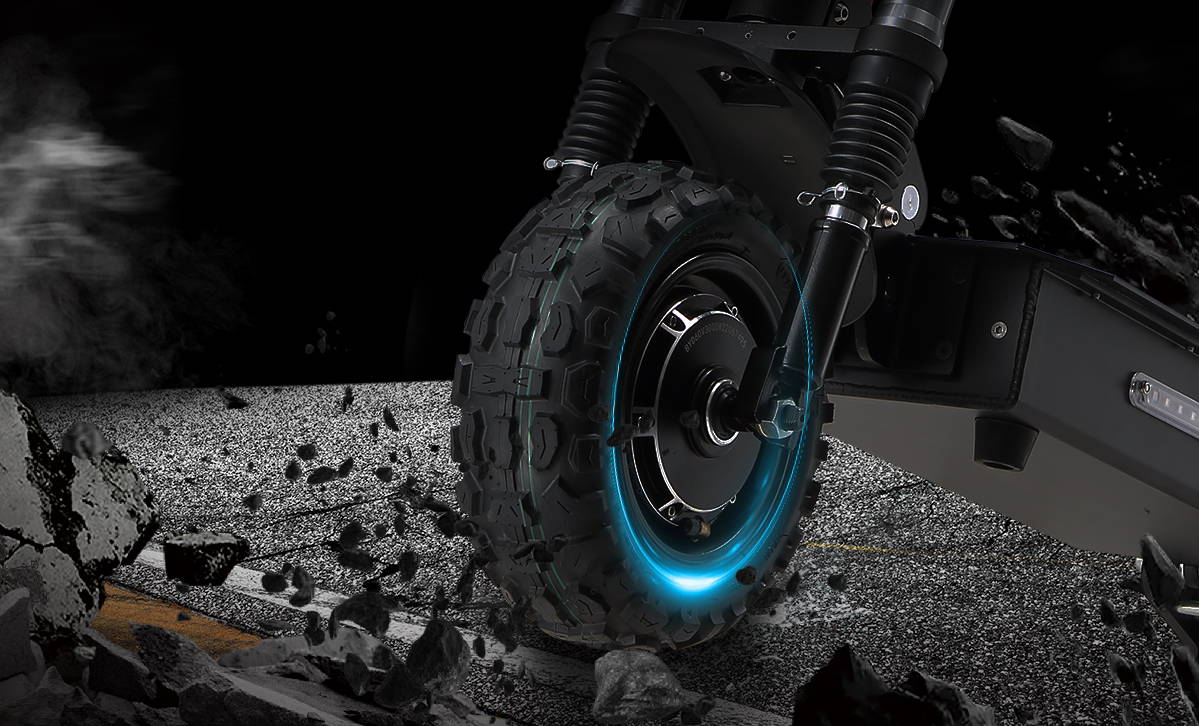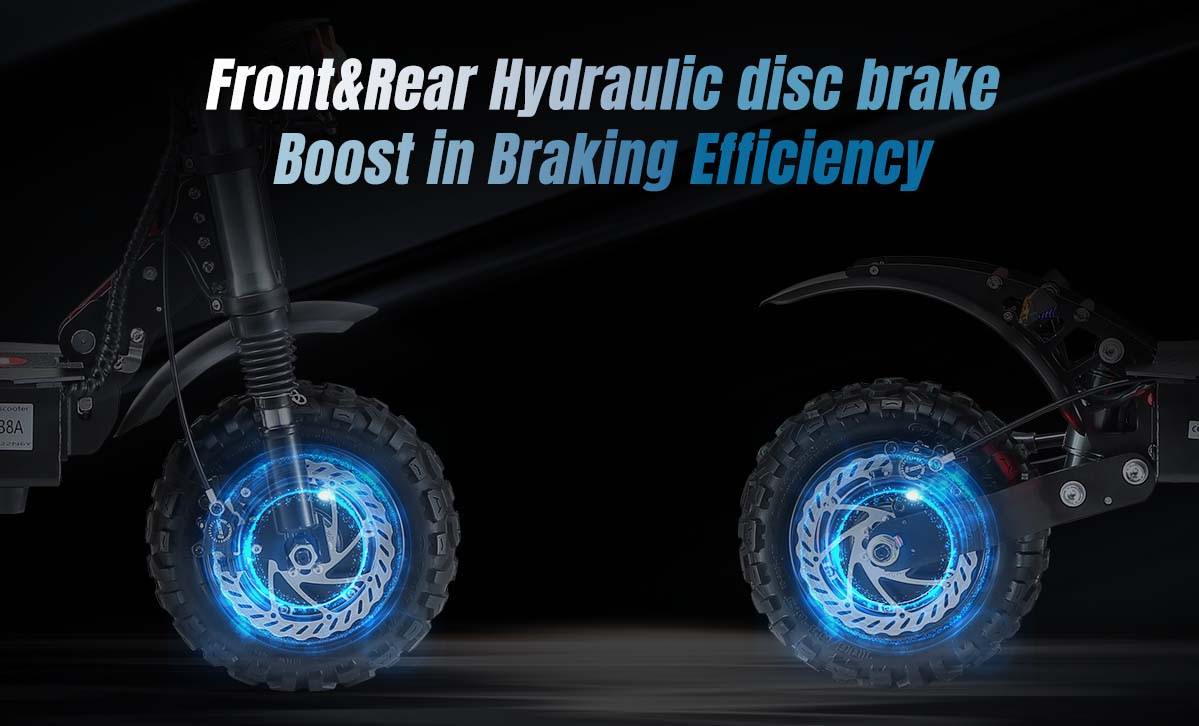 FRONT and REAR HYDRAULIC BRAKE
The Y11 comes with dual hydraulic disc brakes for high performance stopping power. Brake discs are 140mm in diameter. In addition to the manual brakes, the Y11 also incorporates electronic ABS which assist in controlling sudden stops. The sensitivity of the ABS system can be adjusted within the controller settings.
The Y11 has a water resistance rating of IP54, protecting the scooter from water spray ingress. A high pedal height of 53cm keeps the battery compartment far off the ground, further protecting the battery compartment from pools of water on wet roads.
While water resistance ratings are high, YUME does not recommend riding in the rain or wet for extended periods.

Water resistance rating: IP54

                      Water resistance rating: IP54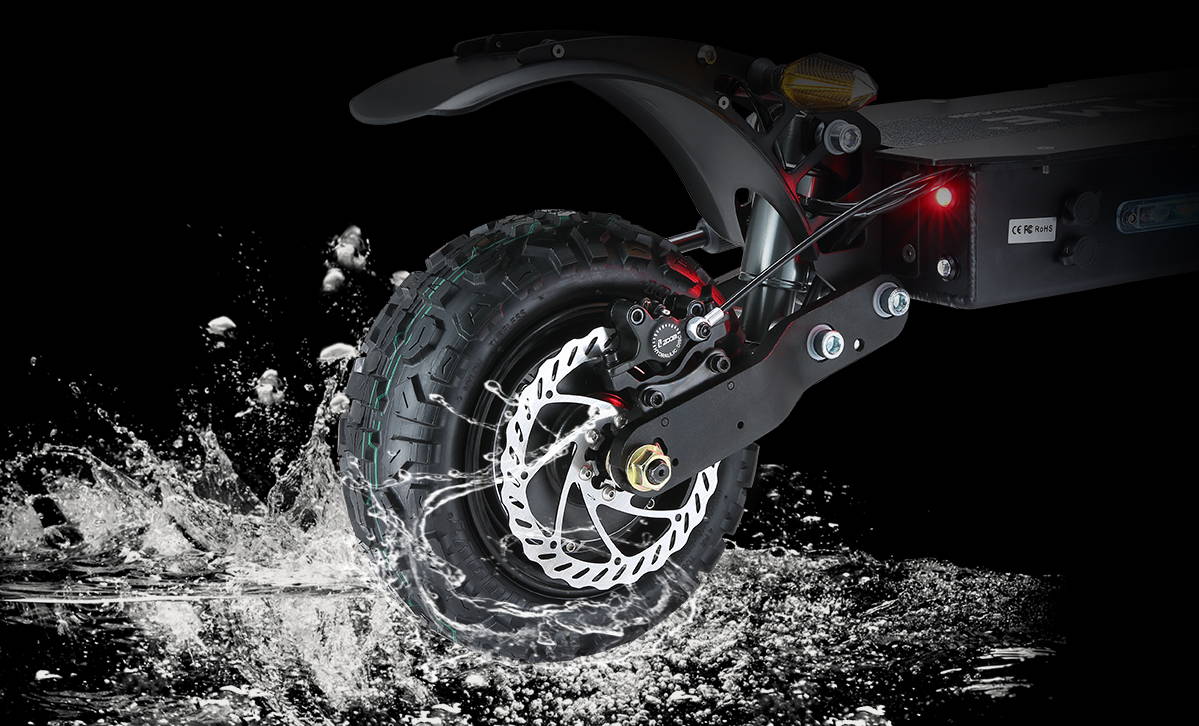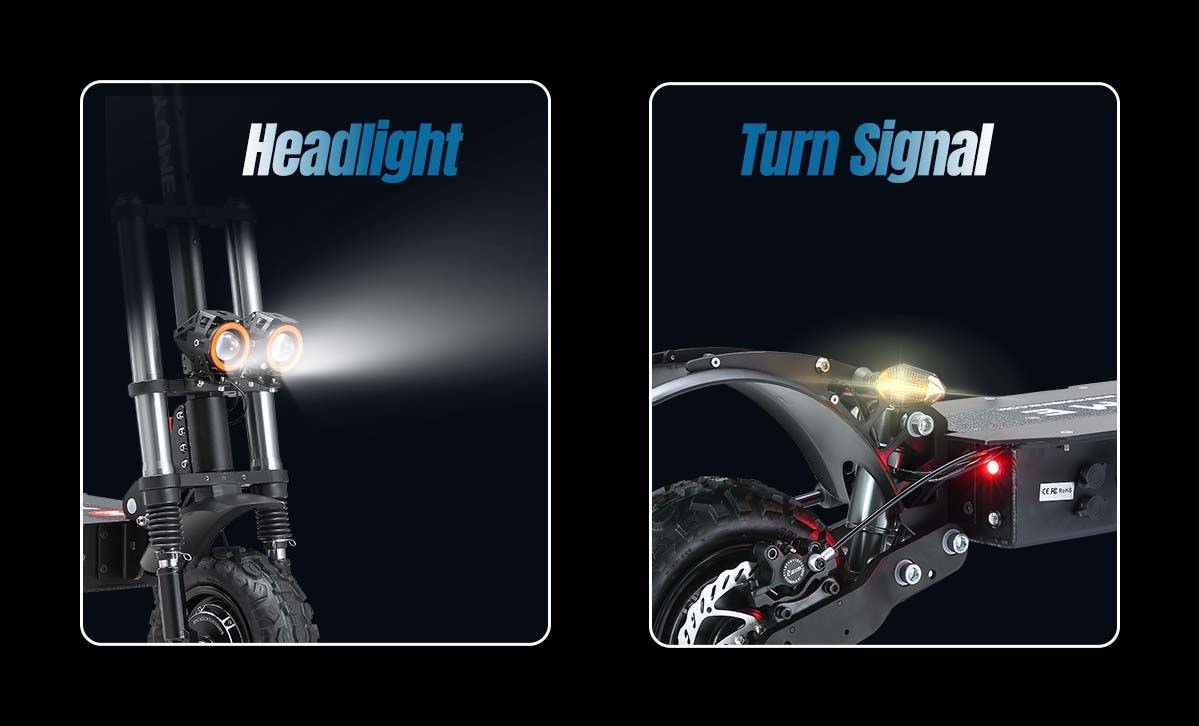 The 'Angel Eyes' LED headlights on the Y11 provide excellent illumination of the road ahead. Tail lights and brake lights are also installed. Turning signals with handlebar mounted controls provide clear warning to riders or drivers behind of your turn intentions.
For rider visibility at night, light strips are installed on both sides of the Y11 body.

'Angel Eyes' LED Headlights

Light Strips On Both Sides

Super Bright Turning Signal Lights


        'Angel Eyes' LED Headlights             Light Strips On Both Sides

        Super Bright Turning Signal Lights
The digital backlit color display provides the rider with bright, clear and concise information of the scooter's settings and current telemetry. Information displayed includes: current gear, speed, odometer and battery levels.

| | |
| --- | --- |
| | YUME Y11 KEY SPEC |
| | Motor Power: Dual Motor-3000Wx2 |
| | Battery: 60V 31.5AH 21700 |
| | Top Speed: Up to 50Mph/50Miles |
| | Tire: Big Wheel (11 inches off-road tubeless tires) |
| | Weight: 105LBS - Load capacity: 330 LBS |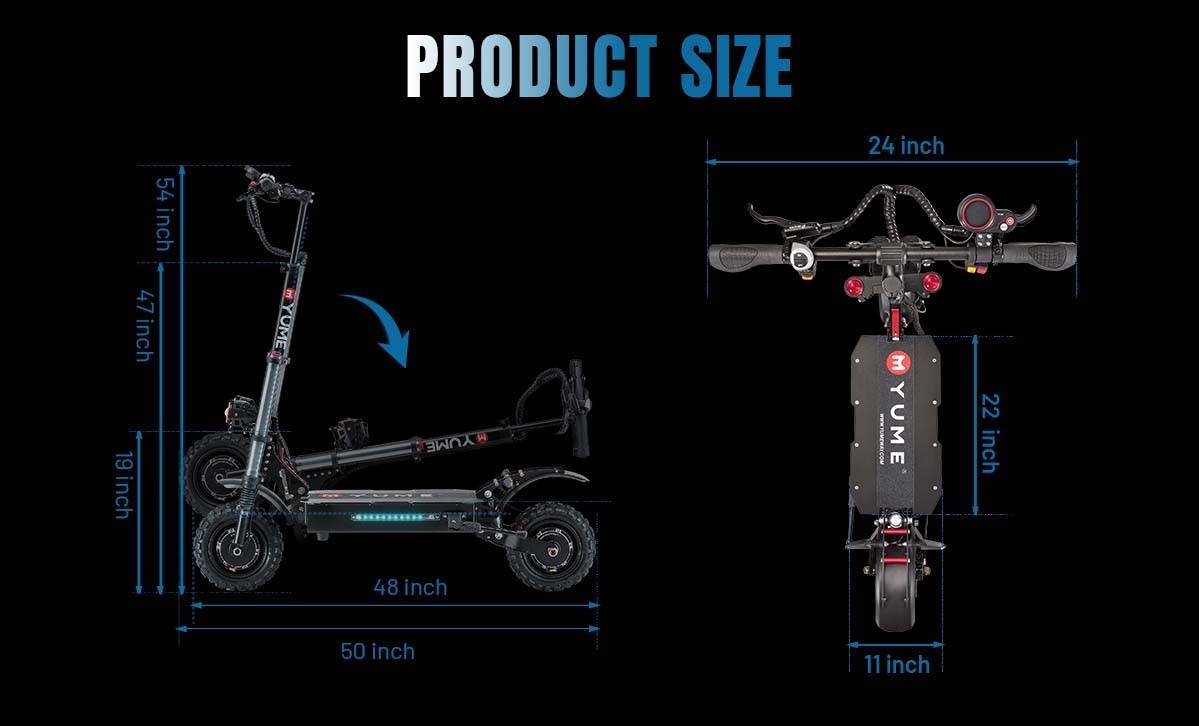 Electric scooter

2 Chargers

User Manual

YUME Bag (gift)

Multitool and Tire Pump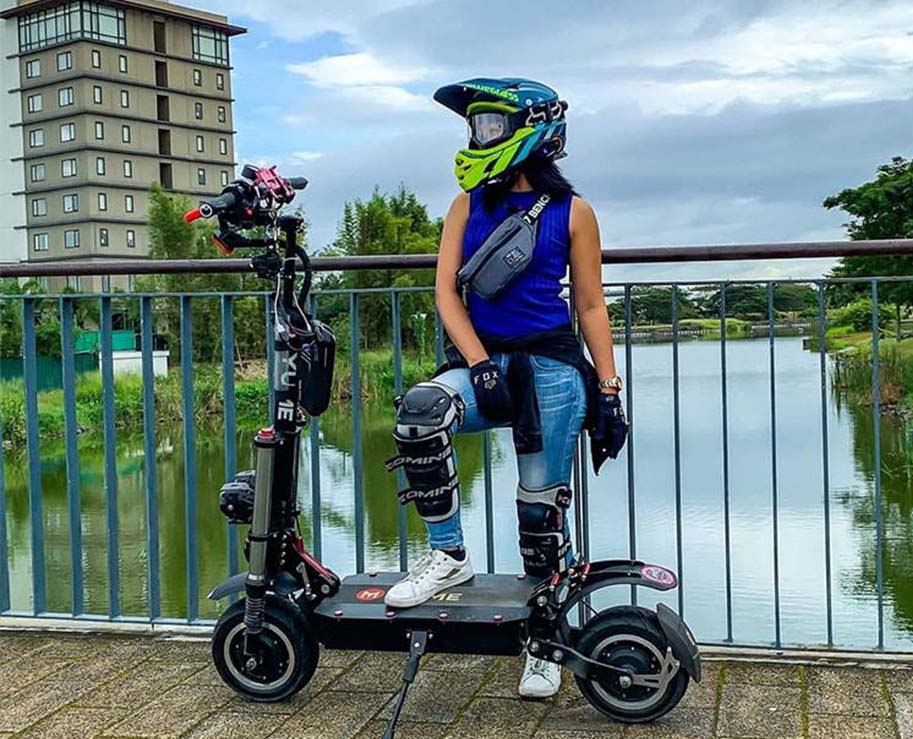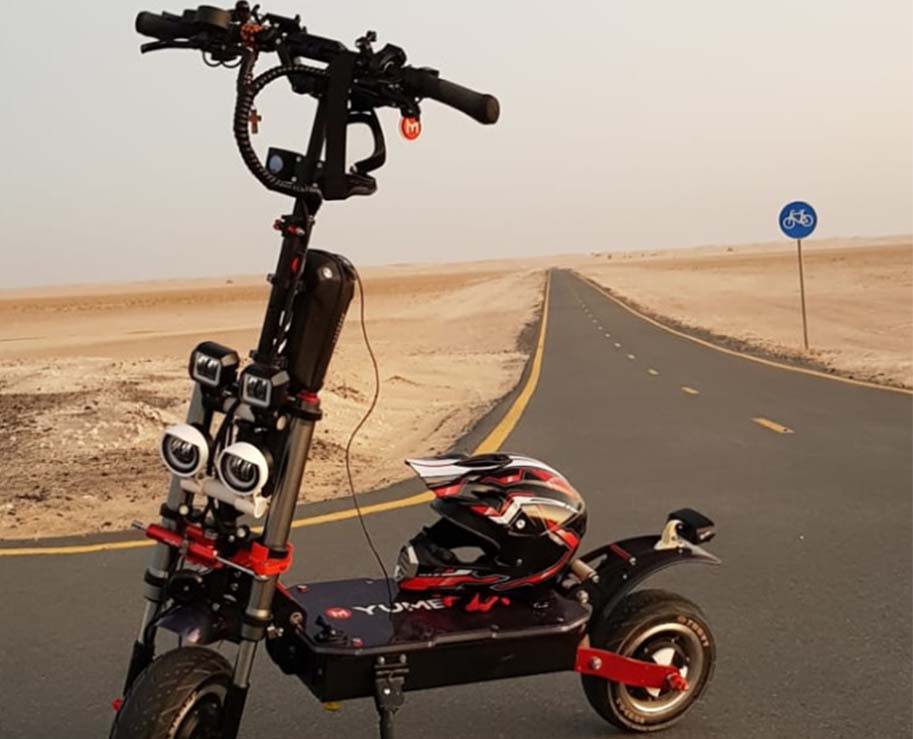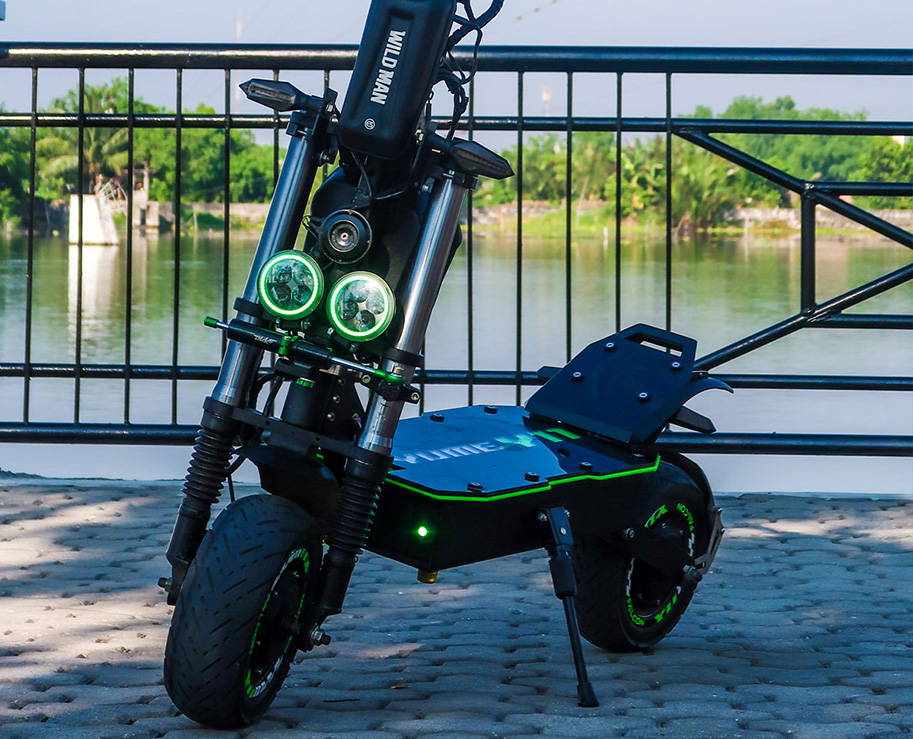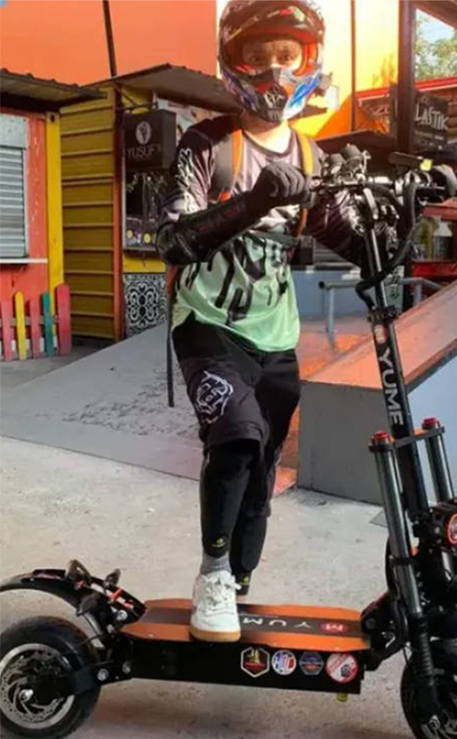 Shipping
Delivery Duration:
In-stock products shipped from the US and Europe warehouses are usually received within 3-7 days after order. Depending on the delivery destination, it could take slightly longer, though. On the other hand, in-stock shipment from China (factory) is delivered within 20-40 days.
If an order is a pre-order or custom order, the lead time will be noted on the product page.
This product supports fast shipping to the following countries:
Austria, Belgium, Bulgaria, Croatia, Czech Republic, Denmark, Estonia, Finland, France, Germany, Greece, Hungary, Ireland, Italy, Latvia, Lithuania, Luxembourg, Netherlands, Poland, Portugal, Romania, Slovakia, Slovenia, Spain, Sweden, United Kingdom, and the USA.

FREE SHIPPING & DUTY:
*Europe stock – Duty-free fast shipping and after-sale service.
*USA stock - Duty-free fast shipping and after-sale service.

Area for quick delivery:

USA Warehouses to Canada: Freight and taxes are required(about 150-300$)
Europe Warehouses to UK : Freight and taxes are required( about150-300$)

Other Areas:
1. To Russia takes 20-30 days (except remote area)
2. To Malaysia, Thailand, South Korea, Singapore takes 7-15 days
Note:
Due to different regional freight and other costs, some products have different prices in different countries. Please select an area that matches the shipping location when purchasing.
The above is the approximate delivery time according to our past experiences. We always strive to provide the very best reliable shipping service and hope our products arrive at their destinations on time. However, the delivery may be slightly delayed due to customs clearance, public holidays, bad weather, airline strikes, etc. Nevertheless, our shipping service will always keep you updated on the shipping status of your order.

Thank you for your understanding!
Warranty
YUME Warranty :Click Here
SAFETY TIPS
YUME SCOOTER SAFETY TIPS : Click Here